The H3D M series was developed as a custom integrable CZT module. It contains everything needed for high-resolution spectroscopy and is an identification and quantification solution to meet any customer's potential need.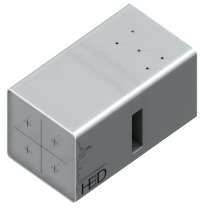 Applications
The H3D M series can be used in unmanned vehicle-mounted characterization, high-sensitivity tiling, or OEM integration. With its compact size and custom design, it is perfect for a wide variety of applications.
Resolution
The H3D M series has near-HPGe energy resolution at room temperature all in a single module.
Options
Variants of the M series are capable of real-time spectroscopy, ID, and imaging. High/low efficiency options are also available in addition to an add on external battery.
If you have more questions about the H3D M series feel free to reply to this post, checkout our website: https://h3dgamma.com/m400.php or contact us at: https://h3dgamma.com/contact.php